I promised to let you know, and here it is !
As a reminder, I happen to write western novels as well as fanfic. I've already written three books featuring characters from Blakes 7, a tv sci-fi series I'm a fan of. As I love writing about Wedge and the Rogues, I decided they could go into a western too. So Wedge, Tycho, Wes and Hobbie are now a Colorado sheriff and his three loyal deputies.
The characters have the surnames of the actor who played them in the movies (except Tycho, as I couldn't find a name for him). The town they're based in is called Lucasville, there's a beautiful widow called Eileen Wessex and the bad guy is called KJ Anderson :whistling:
Sadly, the generic gunfighter on the cover doesn't resemble any of the heroes, though his colouring is correct for Sheriff Alec Lawson. The setting doesn't look a fat lot like the Rockies eithers. Never mind..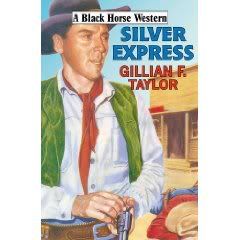 Here's a short scene with all four of our heroes:
Alec Lawson opened the cupboard and glowered up at the tin of coffee beans perched on the top shelf.
"If you're gonna keep putting the coffee up there, ye can make it yoursel'," he growled.
"You make lousy coffee anyway," Karl Forth told him, reaching up easily to retrieve the tin.
"The only thing you can cook good is porridge," Sam remarked, from his place at the kitchen table. "And only a Scot'd want to eat that."
"You were grateful enough for my porridge when we were bunkies in the barracks," Alec replied, setting a frying pan on the stove.
"Well, I warn't but a lil' Kentucky boy, fresh off the farm," Sam drawled. "I didn't know no better then."
"If you though Alec's porridge was good, your mother must have been a lousy cook," Karl put in, pouring coffee beans into the mill.
Sam put on a wounded expression as Alec chuckled.
The door between the offices at the front of the building and the living quarters at the back opened as Ethan Oldfield came through. He hid a yawn with the back of his hand as he ambled across to the cookstove.
"Someone had shoved this under the door," he said, handing a folded piece of paper to Alec.
Alec dropped a lump of lard into the frying pan and took the paper.
"I told you there was a draft under that door," Ethan added, peering at the half-inch of cold coffee in the bottom on his tin mug.
"I bet you-all it's a lvoe letter," Sam said, his eyes sparkling with mischief as he watched the sheriff read the note. "My money's on a redhead."
"Ladies don't write notes on paper like that," Ethan pointed out.
"I never said she was a lady."
Ethan grunted. "I don't think it's from a woman. But I bet you it means work for someone," he said gloomily. "Most likely, getting shot at."
Alec gazed thoughtfully at the paper before looking up and grinning in a way that worried his colleagues.
"The good news, Ethan, is that you're right about this meaning work for someone. The bad news is that it's gonna have to be you three." He passed the note to Karl. "Donegan's been sighted in Ballarat: he was there yesterday. I can't go. I've got that tax auction in Jamestown to handle today, but I want you three to head on up to Ballarat and see if you can find him."
Karl nodded. "We'll go take a looksee up there."
"So you get to sit in a saloon and handle the sale of a ranch, while the rest of us go track down some dangerous outlaws and maybe get ourselves shot at ?" Ethan asked, his long face mournful.
Alec nodded cheerfully, dropping slices of bacon into the frying pan
"It could be a hoax," Sam pointed out.
"Could be," Alec agreed. 2In which cae, you don't risk getting shot at. But we can't afford to ignore it. You might find Donegan's been and gone already, but you still might pick up his trail. Just be careful if you do run across him," he added more seriously. "He's a real mean bastard."
"I'll remember," Karl promised.
Silver Express is available from Amazon - search for the title, or my name - Gillian F Taylor. It's a small hardback with a glossy cover. It's typical of my fic, with action, humour and a touch of romance, but horses and trains instead of X-wings !