Title: New Kitty
Corellia's Dream - June 9, 2009 02:26 AM (GMT)
Sadly, my older cat, Skiffle, was put to sleep a month ago, as she had a tumour on her jaw. This means I only have one cat, Diesel. Now Diesel is used to having company, and I much prefer having more than one cat, so I've been after another.
I'm a sucker for big semi-longhairs, and I got interested in Norwegian Forest Cats a couple of years ago. And as most of my previous cats have been monochrome, I wanted to get one with some colour, preferably a red or tortie. Happily, Skogkatts (Norwegian Forests) come in a wide variety of colours.
So after visitng a cat show and looking on the net, this evening I visited a breeder and was delighted to be deemed acceptable as an owner of one of her precious babies. I'll be bringing my little red and white girl home in about three weeks, when she's had her vaccinations and been microchipped.
Her pedigree name is Eucharis, which I didn't care for much, so I wanted a pet name for her. The common nickname for the Norwegian Forest is Wegie, which of course looks rather like Wedge. As my kitten is a girl, I didn't want to call her Wedge, so she's now called Iella - which the breeder said was a pretty name.
And here she is: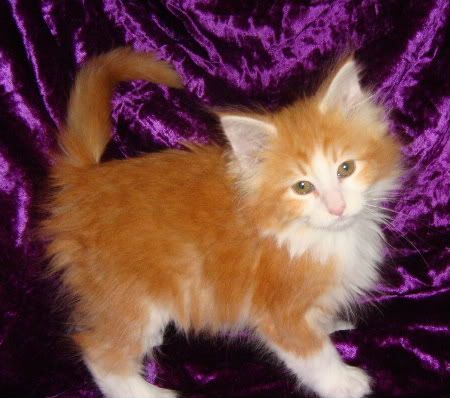 Durell - June 9, 2009 08:01 AM (GMT)
AWWWWW, she is very pretty and a very pretty name. :D
RedBirdie - June 10, 2009 10:38 PM (GMT)
awwwwww, little Iella!

My mom has Maine Coons, which are similar to Norwegian Forest Cats. Big, hairy cats who are sweet as can be and think they're lap kitties. Nothing like 18 pounds of cat in your lap.
Corellia's Dream - June 11, 2009 12:54 AM (GMT)
Well, they'll keep you warm in winter.
Demon28 - June 11, 2009 12:58 AM (GMT)
Such a pretty little baby! I showed Bubba her picture and warned him I could trade him in for a sweet heart like your Iella. He wasn't amused.
Corellia's Dream - June 21, 2009 03:12 PM (GMT)
Here's a more up-to-date pic of my Iella: it was taken on the 12th June. It looks as though her eyes are turning amber/copper, which will be lovely. You can see she's growing from very 'kitten' into 'big kitten/young cat'.
I'm going to collect her next Sunday, so only another week to wait. It's too long !
Demon28 - July 7, 2009 01:22 AM (GMT)
Have you gotten Iella home yet?
Corellia's Dream - July 7, 2009 11:08 PM (GMT)
Yes, we brought her home last Sunday. My other cat, Diesel, wasn't too keen at first but now they're getting on well and Iella has the full run of the flat.
Here she is, leaning against my knees:
She's a sociable cat, and generally likes to be in the same place I am, though at the moment she's lying at the top of the stairs. She's close enough to know where I am. If I leave a room while she's asleep, when she wakes she calls to me, asking where I am.
She has two soft spongy balls that she likes to play with and picks up to carry around. I was playing Fetch with her this evening. I throw the ball down the stairs. Iella rushes down the stairs, trying to catch the erratically bouncing ball. When they both reach the bottom of the stairs, Iella picks up the ball and brings it back up the stairs. Repeat.
Iella bounding up the stairs with the ball clutched firmly in her mouth is one of the cutest things ever :)
Durell - July 8, 2009 04:47 PM (GMT)
aww, she sounds like one of my cats. She is also "asking" where everybody is when she wakes up alone. Although in her case it is more like screaming.

I could imagine Iella and she would have a hell of a time together and propably smash a lot of things. :P

Iella looks very cute. :)
Corellia's Dream - September 29, 2009 11:57 AM (GMT)
Gosh, it's been a while. Time for an Iella update. She's six months old now, and due to visited the vet on Friday to have some bits removed. She weighs six poinds, and gets on well with Diesel, aside from when she's busy bouncing on her and pestering her. Right at this moment, they're together on the floor near my chair, and Diesel is washing Iella's throat. Iella is purring contentedly, but I wouldn't be at all surprised if it turns to combat in a minute.
Here she is sitting on the windowsill, showing off her bushy tail
And a full-face view: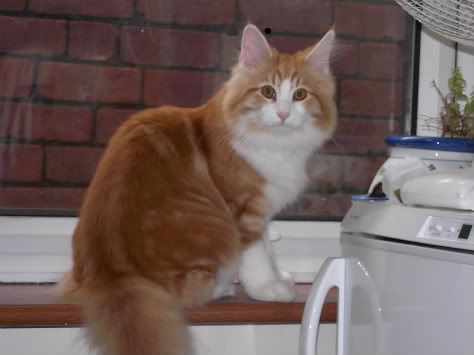 Well, the washing seems to be over and they've settled down peacefully. Iella is still rumbling contentedly. As the weather turns cooler, I expect to see them snuggled together more. And it's nice that Iella's peaceful. She interrupts me at the computer, by bringing a ball for me to throw and trilling and fussing around my feet until I get the message. I try to throw the back out onto the landing and down the stairs, with Iella in hot pursuit. A few minutes later, she's back with her ball, demanding me to throw it again.. Oh well, it ensures I do some stretching and bending while I'm at the computer.
Durell - September 30, 2009 12:06 AM (GMT)
She is such a beauty. Glad to hear Diesel gets along with her.
Demon28 - September 30, 2009 12:59 AM (GMT)
She is definately growing into a beautiful lady. What a great exprssion on her face. Nice that she is getting along with Diesel. Bubba and Tatiana sometime play so rough that I think they hate each other then I find them sleeping togethr!
Corellia's Dream - December 4, 2009 01:02 AM (GMT)
Here's some newer pictures of Iella.
She developed a hernia after being spayed, the the abdominal muscles did heal properly, so she needed a second op to fix that. She's recovered splendidly from both ops (never actually looked ill), but had to wear a plastic collar for a while.
Damn, I can't work out why the photo insists on coming out so large. I've reduced the size in Photobucket, which for some reason isn't autocopying the addresses anyway.
Grrrrr.
Durell - December 4, 2009 10:45 AM (GMT)
She looks extremely happy with life. ;)
Corellia's Dream - December 4, 2009 12:16 PM (GMT)
Ah, the wretched picture's showing properly now !
Yes, Iella's generally a happy little soul. It's easy to get her to purr and a good, loud purr it is too. She's also been very obliging about wearing the cardboard and masking tape collar I made for her to stop her scratching her first eczema spot. She would sit quite still and purr while I refixed the thing when it became shabby and loose.
Something's in the sink !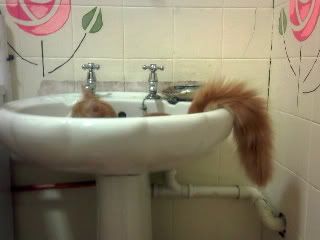 Corellia's Dream - December 7, 2009 04:04 PM (GMT)
Well, Iella appeared at her first show on Saturday. It was held here in Sheffield, by the Long Haired and Semi-Long Haired Cat Club, so a specialist show with plenty of very good cats in her catagories. Iella got third place in the female Norwegian Forest kitten class, which is respectable. First and second were two lovely kittens, so I can't complain.
Here she is with her rosette:
Durell - December 9, 2009 01:23 PM (GMT)
oh, she is an official beauty queen, now.

I'm afraid my cats would scratch the jury and then run away screaming...but everybody would remember them. :P
Demon28 - December 12, 2009 05:17 PM (GMT)
Iella is the Queen! She is so beautiful and deserved 1st Place. I agree with Durell, my Kids would scratch the Judge and cling to their Mom in fear except for Bubba. He would take over the whole competition!
Corellia's Dream - May 8, 2010 12:56 AM (GMT)
It's been a while, so here's a fairly recent pic of my cats looking cosy together.
Iella's 13 and a half months old now. She's bigger than Diesel, just as it looks in the photo. Being young and energetic, she does still paster Diesel sometimes, wrestling with her and chasing her, but they don't seriously fight.
Her breeder mated the same pair again and they had another litte a few weeks ago. There was another little red and white girl, very much like Iella. I really wanted to buy her and call her Myri, but resisted the tempation.
Jesina Dreis - May 8, 2010 01:11 AM (GMT)
Oh, such a pretty kitty.

One of our cats just had hernia surgery - massive hernia. He died on the table but they were able to revive him.

And I love her name. My kitties don't cuddle like that... they'll bathe each other occasionally, but god forbid we should catch them at it.