Title: XWRS:MR ComicPack Action Figures
Description: About darn time
Astronut - March 22, 2009 03:12 AM (GMT)
Corellia's Dream - March 22, 2009 02:44 PM (GMT)
Eeeeeee !

After some shopping around, I've bought a loose figure from ebay, along with Biggs in his TIE pilot outfit.

That is by far the nicest Wedge figure in that size and in his dress uniform too ! - though many sites refer to it as Academy outfit, for some reason.

And I love that for the box artwork, they've taken a lovely pic of Denis Lawson's head and photoshopped it onto an illustrated body. So it's not a illustration of Wedge from the comics, as you might expect, but of the actor. After some of the poor illustrations and models we've had of Wedge in the past, some collectors might be surprised to see just how gorgeous he actually is. The usual stills you see taken from the films don't do Denis justice.

*is waiting imaptiently for parcel to arrive from America*
Corellia's Dream - March 22, 2009 02:57 PM (GMT)
Here's the pic of Wedge from the box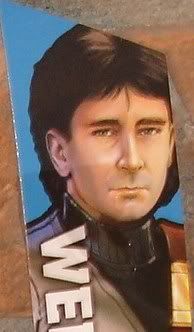 Demon28 - March 22, 2009 03:28 PM (GMT)
I, too, am awaiting the arrival of my Comic Pak plus a loose figure that I purchased from E-Bay. The figure looks great!
Astronut - March 22, 2009 05:03 PM (GMT)
I didn't realize they were available on eBay already. I'll probably wait and just tell my brother that he'd better get me one for my birthday :P

I'm just glad that they finally found an outfit other than the flight suit. That it actually looks Wedge-like is a bonus. Now that they have a dress uniform base, maybe they'll slap a Tycho head on one, too. And re-do the Wes and Hobbie heads without the snoopy caps.
Corellia's Dream - March 22, 2009 06:05 PM (GMT)
I know what you mean. I display Wes and Hobbie with their helmets on because the moulded on head-cosies are so naff.

tycho is either bareheaded or has his A-wing helmet on (currently), but never with the head-cosy.

And it will be nice to have a Wedge figure with decent articulation too, looks like. though he does seem to have rather pointy elbows in some pics.

I shall wait a little while to see about finances before ordering the set with Nrin and Ibtisam. which is a cool pair.
Demon28 - April 2, 2009 01:26 AM (GMT)
Finally got my Wedge in his Dress Uniform! Yeah!!

CD: His elbows are alittle pointed and I feel they've made his head a tad small for the body but hey it's a new Wedge figure!
Corellia's Dream - April 2, 2009 01:29 AM (GMT)
Cool - still waiting for mine to arrive.