Title: Bollywood Bin Laden!!!
Inspector Tanzi - August 4, 2010 08:09 AM (GMT)
TERE BIN LADEN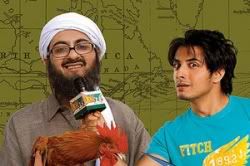 Budget Bollywood film 'Tere Bin Laden' has become a massive hit in India, and looks set for global success.

Despite only screening at a fraction of the cinema houses in India, 'Tere Bin Laden' (Without you Laden) grossed over £1.25m in its first two weeks of release.

The film features a young, budding journalist from Pakistan who desperately wants to start a media career in America, but he can't get a visa. Instead he directs a spoof video featuring an actor dressed up as Osama Bin Laden to sell to US media agencies, who suddenly take the video and suggested threats very seriously.

The main star in the film is Ali Zafar, a famous Pakistani pop star, and despite the film being banned in his country for fear of repercussions from Bin Laden enthusiasts, Zafar talks about the progression he feels his country has made, and how proud he is to be the first Pakistani cast in a Bollywood film.
"People in Pakistan, especially the educated youth, are by and large very liberal and desire progression and peace. People who have seen pirated copies of the film in Pakistan have loved it and are open to it."

Zafar denies claims that the film pokes fun at terrorist attacks, saying "As soon as Bin Laden's name is mentioned, there are issues and perceptions that come with it. But the point of the movie is to comment on that and how fear is generated. Through humour, some very serious issues can be commented upon."

The film is released in the US on Friday, and already has limited releases in the UK, India and Australia and will no doubt be a huge success on DVD later in the year.
http://uk.movies.yahoo.com/blog/article/23...oes-global.html
* Hosted for free by InvisionFree