Welcome
Welcome to Sweetest Taboo, a forum dedicated to Guiding Light's Jonathan and Tammy, as portrayed by Tom Pelphrey and Stephanie Gatschet. Join us as we keep up to date on the actors' current projects and we remember the beautiful couple that was Jammy.

We hope you all enjoy your visit.

♥
Tom & Steph Projects
Picture of the Moment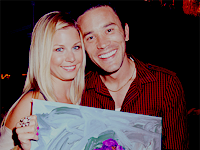 ♥
Quote of the Month
Tammy: I am yours forever, whenever, however we might be. I'm your wife. Partner, your friend, your love.

Jonathan: You are good. You are like a light that shines on every dark place in me. Now I've heard it said that true love doesn't come to you, that it has to be inside of you. If true love is inside of me, which it is, it is there because of you, and I thank you. Thank you. For saving me.
♥
Spotlight Video
The Only One
Edited by maej26


♥
Staff
Credits
Graphics: misstarlight (Amanda)
Sidebar: Dana
Coding Help: RCR


♥




The following errors were found:

The board administrator requires all members to log in


You must already have registered for an account before you can log in.
If you do not have an account, you may register by clicking the 'register' link near the top of the screen

I've forgotten my password! Click here!