this news is awhile back then :)
Date:
December 6, 2005
Credit:
http://www.salvation.org.hk/chq/crd/Press/...051206_eng.html
Event:
The Salvation Army Christmas Red Kettle Appeal Kick-off Ceremony,
The Salvation Army Boil the Kettle with Music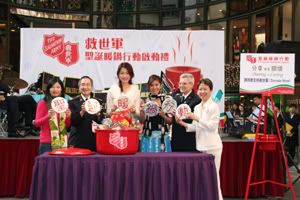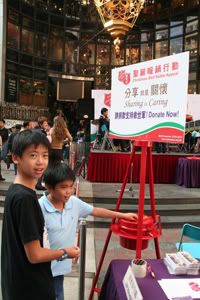 The Salvation Army Christmas Red Kettle Appeal was successfully launched at the World Trade Centre, Causeway Bay on last Saturday, 3 December 2005. The Christmas Appeal originated in 1891 in San Francisco, USA, has nowadays been adopted by The Salvation Army around the world. This Christmas, The Salvation Army Hong Kong and Macau Command brings the renowned red kettle from USA to Hong Kong. The ceremony was kicked-off by the Army's Brass Band and drum performance by a group of kindergarten students from The Salvation Army Ting Ping Nursery School.
Officiating guests included two Miss Hong Kong 2005 Miss Carrie Lam, the second runner-up and
Miss Shermon Tang
, Miss Photogenic, Lt-Colonel Alfred Tsang, Officer Commanding of The Salvation Army Hong Kong and Macau Command and the representative of Sun Hung Kai Properties Ltd.
Background of The Salvation Army
The Salvation Army has been serving the Hong Kong community since 1930 by providing comprehensive services in educational, social and charitable activities to meet the needs of body, heart and soul. The Salvation Army has grown with the local community and helps locate the underprivileged and social needs in different periods of time. The Salvation Army is celebrating its 75th Anniversary in Hong Kong.
Apart from Hong Kong, Macau and the Mainland, The Salvation Army also supports emergency relief works all over the world. Programmes include relief works in the tsunami-affected countries Sri Lanka, Thailand and Indonesia, hurricanes in the Philippines and hurricane Katrina in the states, earthquakes in Taiwan and South Asia and the 911 Incident in the United States.
Locations of the Red Kettles
Chelsea Height, Cheung Fat Shopping Centre, Chung Fu Shopping Centre, East Point City, Hong Kong International Airport, HMV (Tsim Sha Tsui, Central, Causeway), Kai Tin Shopping Centre, Landmark North, Lung Cheung Mall, New Town Plaza I, Sheung Tak Shopping Centre, Sun Yuen Long Centre, Tai Wo Shopping Centre, Tze Wan Shan Shopping Centre, Uptown Plaza, Wo Che Shopping Centre and World Trade Centre