Is this your first bio on either Pollo loco site?:
No
---
Designation:
X5-532
Name:
Carla
Age:
22
Gender:
Female
Marital status:
Single
Physical description:
Carla is slim but athletic. She used to have long blonde hair when in Manticore but she dyed it jet black and will have any colour of the rainbow striped through it now. She has glassy grey eyes which are usually lined in black eyeliner. She is about 5'7'' and weighs 115lbs.
Picture: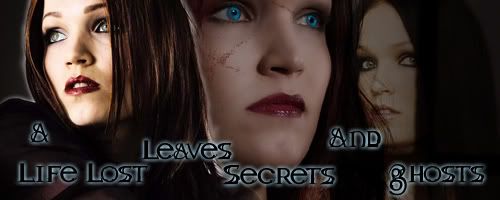 ('Tarja Turunen'.)
Cocktail:
Feline to help with her agility, balance, and eyesight. Shark to help her swim well and heighten her sense of smell.
Original, Clone or One off?:
Original
Unit / Solo Op:
Psy-Ops
Training / abilities:
All compulsory X5 training and specialised in Psy-Ops (hence the eyes). She can control minds (like Mia) and also has a certain amount of telekinesis but can only move a maximum of 250lbs for a certain distance.
History:
Carla was born into Manticore and spent the beginning of her life as every other child in there. She was trained to be a soldier, worked hard and did as she was told. She took well to her training and became a star pupil, chosen to specialise in a certain area. She was chosen for the psy-ops but her training had a strange side effect which hadn't happened before, her eyes changed from a deep brown to a clear grey.
She excelled in her missions, managed to get valuable information for Manticore and continued to train to the best of her abilities, believing that she could always improve. The only time that she had time off was when she was chosen to be part of the breeding program. She fell pregnant and gave birth to a little boy.
Things started to change for her then, they bond between a mother and child can't be broken by anything, no matter what your training. Before Carla could return to her training for missions, Manticore started to burn. She was dragged kicking and screaming from the compound by another X5 (anyone want to be that person?) and was forced to leave her child there. It is now a year on from that fateful day and Carla still has no idea if her child, only known to her by his number 894, is alive, dead, back in Manticore.
She now resides in Terminal City and cares for runaways and orphans, her motherly instinct never dying.
---
Other:
You still want her to run the children's home??
Personality: A true mother hen, Carla will be there for anyone that needs her, be it a child or another transgenic. She uses her psy-ops training for certain things but never for her personal gain and only rarely on the children, if it will help them sleep or behave. She is a little edgy about the outside world and rarely ventures beyond the TC gates into Seattle, only having done it once before when Mason took her on a date :wub:
What happened to clone / original (if applicable): N/A
Family / Unit: Unknown Unit
Vehicle/s owned: None
Home: TC/Children's Home
Clothes preferred: Very simple clothes, black trousers and a respectably lengthed top. Carla doesn't tend to go out but she likes to look smart so she gets respect from those around her.