Character Name:Uchiha, Kazuki (last name first, First name last)
Rank: Genin
Character Age: 13
Character Height 5'5
Characters Weight: 120
Starting Village Hidden leaf
Primary Element/Secondary: Fire/Lightning
Appearance:Pictures[/b]: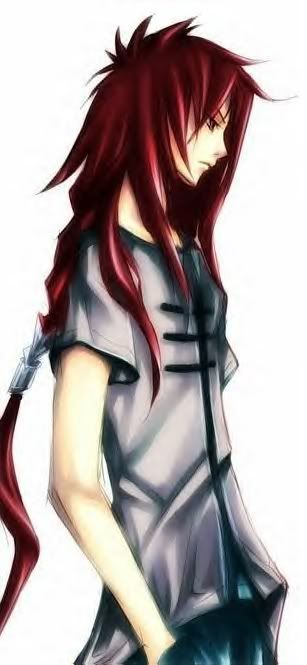 Personality:Kazuki's mood/personality usually changes but for the most part Kazuki is an extremely unenthusiastic person, and as such lives his life avoiding work. This is partly due to seeking paths of least resistance, as he often chooses to do things he would otherwise not do if people nag him enough. His plans on life reflect this aspect of his personality, as he plans to be an average ninja making an average salary, and retire once his children become independent. In his free time he typically takes naps, watches clouds, or read novels. When put into a situation where he potentially needs to put effort into something, he attempts to try to find a way to avoid it such as forfeiting a battle or by pretending to be preoccupied with something else. In the instances where he can't avoid these situations, Kazuki tends to remark "How troublesome....." . Despite some of his cowardly tendencies, Kazuki is an extremely intelligent and strong shinobi he's someone you can count on and someone that you'd want on your side in a battle.

History: His stay at the academy was rather pleasent, it more like a vacation then somthing that should have challenged him. He had realized the first day how much his father's training had helped him when the class began to fumble through with the replacement technique, where as he could already perform it flawlessly. So while at the academy he could normall sleep and slack off, yet still get near perfect marks in all his classes.

This attitude however made most of the other students despise him utterly for how he acted. They believed that he was a show off and hated him or it, but really he was just trying to rest before his next session with his father... This life style cotinued for years with him falling into the rythem of training with his father and being beaten, which would be followed by sleeping in school, yet getting perfect marks, due to having been ahead of what the academy was teaching by weeks due to his father's training.

So this was his life, which he was fairly happy with, but it was all about to become much worse...He was coming home one day to grab a textbook he swore he had packed, but dismissed that he had simply forgotten. When he came to the house however and came through the door into the living room he found his mother slumped on the ground surrounded by a pool of blood, which still ha a slight steam rising from it's warmth. He rushed over to her and reached down to find no pulse, but since the blood was obviously still warm she must have been killed mear moments ago. He looked up with anger and tears filling his eyes twoards the back door which had been left open ajar, where beween the gap that was between the two doors he saw a man completely dressed in black, wearing a sword. Then like that the man jumped, vanishing from the limited vision of the gap. Somthing about the man tugged at his memory, but he simply ignored it and rushed twoards the back door where he jumped just before making contact, kicking outwards to knock the door outside and landed upon it lightly.

He looked up twoards the direction the man hadd jumped off to when he suddenly felt a intense pain in the center of his back. He had been foolished and charged out without thinking. Apparently the man had used a simple clone to lead him by the nose and had waited on the roof to gt him from behind. He turned stiffly, one of his nerves pinched and slowing his movments. His head rose slightly to look at the roof and when he did he wished he had not. Atop the roof stood his father, dressed in all black with his sword strapped to his back...that was what had been familiar...it was the Uchiha Family Katana...somthing that long ago had been inherited by his father's great grandfather...This sight of his father truly hurt him, it was as if he could feel his heart being ripped out and ground into the gorund by someone's heel...While he felt that his father sighed once before he spoke:

"You disapoint me son, stumbling into that trap so easily...I really thought that I had trained you better than that. Seems we will have to work at that later... For now I have to make a little message for the ANBU then play the grieving husband. Until later."

With that his father jumped being lost as he past various buildings and when the konoha ANBU finally did arrive, the came into the home to find Kazuki kneeling beside the corpse of his mother, his sword which was still in his sheath laying at his side. They knew he did not murder her, due to the wounds were made in multiple places by senbon (Though they had been removed). Kazuki however did not respond to any of their verbal actions, but when they attempted to move the body of his dearly loved mother he snapped. He drew and slashed with his katana in one swift motion as he had been taught. The ANBU operative of course countered it easily, but when he went to disarm the boy it was countered. The ANBU operative was of course, slightly surprised that the by had even been able to follow his motions, but when the boy looking into the ANBU member's eyes the operative saw red eyes, with a single tomoe spinning in each of the eyes. In the tragenic event, the boy's sharingan had been un-locked...then, just like that the boy slumped forward having been hit from behind by none other, but his father. Before Myaku lost conciousness he saw a flicker of a smile on his father's face, before it became a solid mask of pain. His father had gotten what he had wanted.....

Academy & Village Technique Chart

* Bunshin no Jutsu (Clone Techque)
Type: Ninjutsu
Chakra: N/A
Description: This technique must be mastered by any ninja who has graduated from the Academy at the Hidden Leaf Village. It's the most basic technique a Genin must know, since it can be a real lifesaver. This ninjutsu creates an illusional clone of the user.

* Henge no Jutsu (Transformation Technique)
Type: Ninjutsu
Chakra: N/A
Description: Henge no Jutsu is the basic skill a ninja must know to become a Genin. It is a very useful and widely used skill in the series, as it has many uses. It's mostly used as a decoy, to confuse the opponent by transforming into somebody that's an ally with the enemy.

* Genjutsu Kai (Genjutsu Release)
Type: Ninjutsu
Chakra: N/A
Description: A Ninjutsu technique where the ninja focuses their chakra and screams "kai" or "release." They can perform it on themselves or on others. It will effectively ward off most Genjutsu, unless extremely powerful or when used in conjunction with an advanced bloodline.
Uchiha Technique List

* Level 1 Sharingan (Copy Wheel Eye)
Type: Advanced Bloodline Doujutsu
Chakra: N/A
Description: The first level of the Sharingan shows the bearer with one tear in their right eye and two in their left eye. At this stage, the eyes have only been seen to follow Ninjutsu and Taijutsu, not copy them.