Character Name: Tamaki Suzaku
Rank: Chuunin
Character Age: 17
Character Height: 5'6"
Characters Weight: 147 lbs
Starting Village: Hidden Leaf
Primary Element/Secondary: Wind/Lightning

Character Appearance:



Peronality:
The anamoly of his family. Will help his brothers out, but most everyone else, it depends on his mood. Actually, he is more willing to help Akihiko out since they have more to prove to each other. He recently began looking at Kazuma as nothing but a medic for Suzaku's and Akihiko's spar injuries.

History:
The middle of the three Tamaki brothers. In his earlier years, he had much respect for everyone in his family. That dropped quite a bit when his Academy years rolled around. First, he lost some respect for his parents for no reason known. He always did have the oddest moods of the three brothers, so that might have been it. He would still hang out with Kazuma and they would often plan sneak attacks on Akihiko, much to their failure.

Later in the Academy years, Suzaku ended up just using Kazuma for his genjutsu and would prank most of the other classmates from time to time. He quickly grew bored with everything, and all but started ignoring Kazuma and worked to prove himself to Akihiko and Akihiko only. When he and Kazuma graduated to Genin, they were in separate squads. Whenever he could, Suzaku would make sport of Kazuma's ability to only use Genjutsu. He would Shadow Bind Kazuma, then prevent him from making any hand seals by forcing Kazuma to mimic his every move with his Shadow Imitation technique. Occasionally, Kazuma would get back at him, savoring the moment. Suzaku did not mind; actually, he would prefer it be one of his brothers than some other kids. Being who he his, though, Suzaku did not want Kazuma or even Akihiko to figure that out about him, and just continued making himself seem like a jerk.

When it was time to become Chuunin, Suzaku had picked up Puppet Mastery. His main habit with it immediately was sneak up on Kazuma and try to scare him. Kazuma by this time had learned to expect Suzaku's doings and eventually starting creating clones to walk around while the real one stood a distance and watched for Suzaku. The first time, Suzaku did not anticipate this and Kazuma got back at him using some Genjutsu. After that, Suzaku figured it would be funnier to watch Kazuma watch his back perpetually. All this pranking each other is probably what helped them during their Chuunin Exams, as they seemed to breeze through it, taking down all obstacles. Other than that, their Chuunin years were pretty uneventful; however, now that all three brothers are Chuunin, they can train and prepare for the Jounin Exams.

Shadow Bind Chart:



QUOTE


Kage Shibari no Jutsu (Shadow Binding Technique)
Type: Ninjutsu
Chakra: N/A
Description:
This is a Ninjutsu technique that allows the user to extend their shadow and connect with another person's, or many people's shadows. Once contact is made, all those bound by the jutsu. At first, the user can only hold the user for 1 post, but as they increase their stamina and chakra amount, the duration is lengthened.

0 -> 2,499: 1 post
2,500 -> 4,999: 2 posts
5,000 -> 7,499: 3 posts
7,500 -> 10,000: 4 posts
15,000 -> 25,000: 5 posts

In addition, for each use, the duration of the shadow bind will decrease by 1 post, though one post is the minimum. Of course, the shadow bind can be broken by a sudden dramatic increase in chakra, or some other circumstance.




Kage Mane no Jutsu (Shadow Imitation Technique)
Type: Ninjutsu
Chakra: 2,500
Description:
This is a Ninjutsu technique that allows the user to extend their shadow and connect with another person's, or many people's shadows. As the name implies, whatever the user does with his body is copied by all enemies trapped within the technique. (used in tandem with Kage Shibari no Jutsu)




Kage Kubishibari no Jutsu (Shadow Neck Strangling Technique)
Type: Ninjitsu
Chakra: 10,000
Description:
A Ninjutsu technique, which is a variation of the Kage Mane no Jutsu (Shadow Mimicry Technique). Kage Kubishibari gives the shadow the ability of physical pressuring. The easiest and most common use it to strangle or break the necks of trapped opponents.



Puppet Chart:


QUOTE
Puppet Master Technique Chart (Credit to Lord of Tayopia)
Special Item: Those who choose this chart as their main will begin with a puppet, and equip it with 5 weapons to their liking(Like a set of senbon needles, a hidden knife, poison tail). In addition, each puppet can have 2 weapon jutsu unique to it.
Description: A skilled chart where a person can control one or many puppets to use as their true weapon. People in this "profession" spend much of their time working on and mastering their control of their puppets.

Puppet Name: Kazu
Puppet Appearance:
(Something like this, but I guess Suzaku ain't half bad.)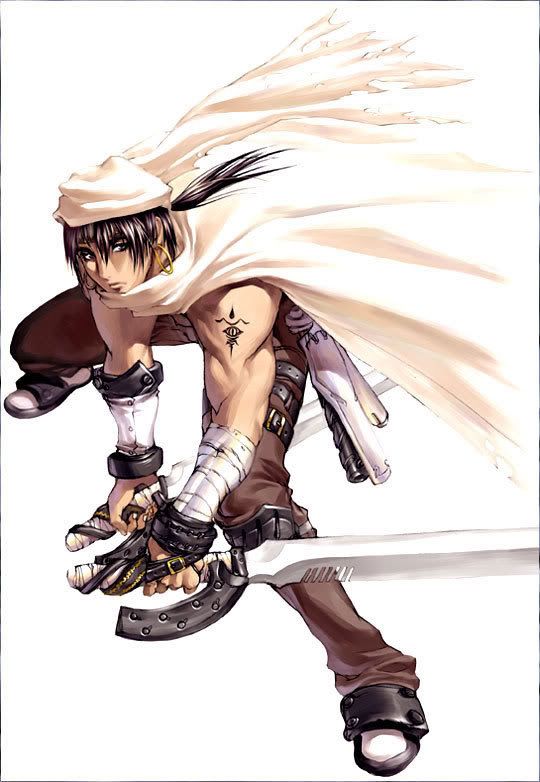 Special Weapons:
1: Short Iron Sword - Left Hand
2: Short Iron Sword - Right Hand
3: Iron Spear - Attached to Back (More like hidden in back, actually)
4: Smoke Ball Socket hidden in Left Thigh
5: Senbon Needle Socket hidden in Right Thigh




Kugutsu no Jutsu (lvl 1)
Type: Ninjutsu
Chakra: N/A
Description:
The most basic level of Kugutsu no jutsu, the user is able to control a single puppet through the use of chakra strings. These strings are invisible to all but those with a doujutsu that allows them to see chakra (i.e. byakugan) and those creatures who consume chakra (kikai bugs.) Controlling the puppet requires both hands and the puppet's movements.




Puppet Senses: (lvl 1)
Type: N/A
Chakra: N/A
Description:
Without this series of techniques, a Puppeteer is limited to actually watching his puppet in battle. At this stage of Puppetry, however, the limit on distance almost guarantees that a Puppeteer will be watching the battle. Puppet Senses allows the Puppeteer to speak through his puppet.




Kugutsu Rendan - Puppetry Combo
Type: Taijutsu
Chakra: N/A
Description:
After the opponent is knocked into a vunerable mid-air position, the user shadows them and kicks them back towards the ground, using another punch to increase velocity downwards, only to have a puppet on the ground knock the user back into the air for another attack.




Jouro Senbon - Sprinkling Needles (Puppetry Custom)
Type: Taijutsu
Chakra: 2,500
Description:
To use this technique the user must have a large supply of senbon(needles) hidden somewhere on their body or puppet. Then the user unleashs a torrent of needles into the air by shooting or spinning whatever they are concealled in...Then using their chakra they can guide these needles towards their opponent(s).




Kugutsu no jutsu (lvl 2)
Type: Ninjutsu
Chakra: 5,000
Description:
At this level, the first major breakthrough of the Kugutsu no Jutsu is accomplished, as the character can now control his puppet with a single hand, this allows the use of two puppets simultaneously. He also, however, gains the ability to attach his chakra strings to inanimate objects, requiring one hand to do so. While this does not give any control over the objects attached, a Puppeteer can use these chakra lines to set up trip wires and traps.




Puppet Senses: (lvl 2)
Type: N/A
Chakra: 5,000
Description:
At this level, the puppeteer gains the ability to hear sounds that are made around the puppet, though this sound is slightly muted and will not transmit the effects of Sound techniques. The Puppeteer can now see through his Puppet while keeping his eyes open, but he is only vaguely aware of his surrounding, making him an easy target if he is out in the open.




Kuchiyose no Jutsu- Summoning Tech
Type: Ninjutsu
Chakra: 5,000
Description:
Used to summon puppets, instead of having to carry them. Does not require blood to use.




Melee Kugutsu no Jutsu - Hand to Hand Puppetry Fighting Style
Type: Taijutsu
Chakra: 5,000
Description:
This technique can be used in two ways. The first with the user on the puppets back, using its arms and weapons as their own, or else in combination with the Konbi Henge no Jutsu or the Kugutsu Katchu technique. To make them both of one body.




Chakra String Constriction
Type: Ninjutsu
Chakra: 7,500
Description:
This techniques basically uses the chakra strings to wrap, grapple, or
Constrict, the enemy nin. If the nin has the ability to cut chakra or
Extreme strength then they can break free if not they must wait until the user is to drained to hold it up, or they let them go. If the user is already tired then they can be broken very easily.




Konbi Henge no Jutsu - Combination Transformation Technique
Type: Ninjutsu
Chakra: 10,000
Description:
Konbi Henge is a Ninjutsu technique that allows two ninja to transform themselves temporarily into another person or thing. While in the form, they can use the physical characteristics of the one they are impersonating. This technique can be used with the puppet to make them look as though the puppet and the user has combined into some sort of demon-esk being of crazy evil.




Kugutsu Katchu- Puppet Armor
Type: N/A
Chakra: 10,000
Description:
The Puppeteer uses a special tech, in which the user to break apart and reattach to the userís body as armor the puppets weapons can still be used and depending on the appendages of the puppet jutsu can still be used aswell.




Kugutsu no Jutsu (lvl 3)
Chakra: 10,000
Description:
The last stage of the puppetry technique carries with it a new breakthrough; the ability to control 3 puppets at once. A greater understanding of the technique and the ability to transmit complex mental commands through the strings (as well as manipulate them normally) allows the puppeteer to control all three puppets with two hands (roughtly three strings per puppet.) . The puppeteer can now attach a dozen strings to inanimate objects with a single hand.




Leaf Academy Chart:


QUOTE


Bunshin no Jutsu (Clone Technique)
Type: Ninjutsu
Chakra: N/A
Description: This technique must be mastered by any ninja who has graduated from the Academy at the Hidden Leaf Village. It's the most basic technique a Genin must know, since it can be a real lifesaver. This ninjutsu creates an illusional clone of the user.




Henge no Jutsu (Transformation Technique)
Type: Ninjutsu
Chakra: N/A
Description: Henge no Jutsu is the basic skill a ninja must know to become a Genin. It is a very useful and widely used skill in the series, as it has many uses. It's mostly used as a decoy, to confuse the opponent by transforming into somebody that's an ally with the enemy.




Genjutsu Kai (Genjutsu Release)
Type: Ninjutsu
Chakra: N/A
Description: A Ninjutsu technique where the ninja focuses their chakra and screams "kai" or "release." They can perform it on themselves or on others. It will effectively ward off most Genjutsu, unless extremely powerful or when used in conjunction with an advanced bloodline.




Kinobori/Kabenobori no Jutsu (Tree/Wall Walking Technique)
Type: Ninjutsu
Chakra: 2,500
Description: By focusing a proper amount of chakra into the feet, the user is able to walk on walls and trees.




Konoha Shunshin no Jutsu
Type: Ninjutsu
Chakra: 2,500
Description: An ability which allows the user to transport from one area to another in a veil of leaves. (Not to be Used in Battle)




Suimen Hokou no Gyou (Water Walking)
Type: Ninjutsu
Chakra: 5,000
Description: By focusing their chakra in a similar manner to the Kinobori technique, the user is able to balance over the surface of water, allowing them to walk and run freely.




Kawarimi no Jutsu
Type: Ninjutsu
Chakra: 5,000
Description: The Body Substitute skill is a widely used and very famous skill among shinobis. Put simply, the user uses speed to his/her advantage, and grabs an item from the environment and places it on his/her current position while moving out of the way.



Unique Jutsu - Puppet Techniques:


QUOTE
Scatter and Reform
Type: N/A
Chakra: N/A
Description: The puppet, Kazu, breaks apart at all joints, landing in a circle around as much of the enemy(ies) as possible with Suzaku controlling their landing points. The fallen pieces leave enough shadow for Suzaku's Shadow Bind techniques to encircle the foe.
To reform the puppet, Suzaku simply creates chakra strings and brings the puppet back together; usually for a swift counterattack. In reality, a useless technique, but it was what Suzaku had originally practiced using when he trained together with Kazuma and Akihiko.


Wind and Lightning
Type: Ninjutsu
Chakra: 3,500 (Chakra materialization and trying to keep it in enough control to keep the puppet from breaking.)
Description: Using Suzaku's elemental affinities, he transfers into Kazu's left arm a wind-like materialization of his chakra, and lightning into Kazu's right arm. The left hand swings a burst of air at the opponent, while the right arm releases the electricity through the burst of air to shock the opponent. Suzaku has yet to fully master this, and if he does not put the right amount of control into it, he risks breaking his puppet for the remainder of the battle, rendering its arms useless.