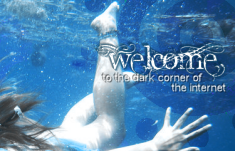 World War III brought mankind to the brink of utter destruction, bringing their number count down to only a few thousand. Survival of mankind has been thanks to several different vampire houses. With time the different houses began to fight over their food sources causing a rift between them. What's more, sickness has begun to sprout in the world of the vampire, killing many of the young ones and some of the elders as well. What will the future for man and vampire kind hold? Utter destruction? Or a time of renewal?




11.02.11
The skin has been changed to a Vodja house theme skin. It's a peaceful mix of ocean blues that is relaxing to the senses...just like the Vodja vampires. Once the skin has all it's frills added an activity check will be done with e-mail accompanying it so we can get Levin Rov back on it's feet. ღ Celest





BLAH



Site concept & content © The First
Skinned by LeaEliza of CAUTION 2.0
Other skin credits found here.


Active Stats
Total Cumulative Posts
123 ( 10.25% of total forum posts )
Posts per day
0
Joined
11-April 08
Last Activity:
Mar 4 2012, 05:50 PM
User's local time
Aug 29 2016, 05:59 PM

Communicate
Email
Click Here
AIM Name
No Information
ICQ Number
No Information
Yahoo Identity
No Information
MSN Identity
No Information
Personal Message
Click Here

Information
Home Page
No Information
Birthday
No Information
Location
No Information
Interests
No Information

Posting Details
Member Group
Co-Admin
Member Title
Head of Xrabrij House
Avatar
Signature
Affiliates