Name: Odagiri, Ryu
Gender: Male
Age: 21
Job: Exorcist
Branch of the Black Order: England
(Exorcists only)Weapon: Intercross - The Cross Necklace his dying mother gave to him in her will. The weapon gives him the power to change emotions people have while standing in the same area as him. The power works in a radius of 24 miles. Also, that cross when taken off will give him the power to turn it into a bow and arrow that could easily defeat two to 4 akumas at a time.
Picture: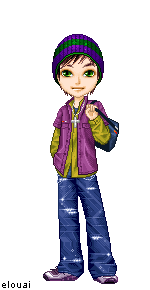 Personality: Wierd for the most part. He isn't a type to 'fit in' but there are a few that loves to hang around him because for one, he can defend them from any harm and because he's just cool. He isn't a liar, but we can say he bends the truth and doesn't pay any attention to any white lies he may have said; but otehr than that, he's loyal, kind, and of course, odd.
History: Ryu was previously from the Asia Branch, but because of the spots filling up over there and what had happen those three years ago. He was transferred, or more like called over to help the England branch. In 1983, he was found by Marianne Gleen, a noble woman in England, but she had gone abroad to Asia and that was where fate had hit. Having gotten ill from an unknown disease, Marianne died, leaving Ryu to fend for himself, but that was needed no more when one day, he suddenly found a shimmering cross in his mother's bag. It had a note,
Dear Ryu,
Mother is very ill, and I apologize for leaving you so soon after having found you. But please, believe me when I say that those three years with you have been the best years of my life. Here, in my wil, I leave you with my home in England and every other possension that I have claim to. Also, this necklace was an important item, it shows that you were a close person to me, take it and don't let anybody have it.

Love,
Your Loving Mother.
After reading that, he had touched the cross only to see it for shine. Not wanting to disobey his mother, he took the necklace and wore it. Then, without knowing; it had left him with his powers to control emotions, making him in easy person for the order to find that had powers of an exorcists. And we know the rest, someone found him, recruited him and waalah~! Exorcists Ryu~!