COOL~! xDD
My character will be made to be like me~! LoL~!
(Natalii is VP of the Student Council~!)
Appearance:
Name: Natalii Ngo
Gender: Female
Likes: Piano, Anime, Manga, Animals, Friends, Family, Chocolate, Parties, Books, Volleyball, Basketball, Dancing, Singing (Karaoke), Jewelery, Cute Accessories, Music of ALL Kind, and CANDY~!
Dislikes: Vegetables, (Except a Few.), Running (Besides for BBall and VBall.), Chores, Studying, Cussing and LECTURES~!
Personality: She's a usually calm person but gets annoyed by people quite easily. She's really has a veneer of kindliness, which fools most people. Her best friend, Cindii, and her are ALOT alike, they know what each other are thinking in a situtation just by eye contact. (Is that not realistic....since I can actually do that with my best friend...LoL.) She's REALLY lazy and she doesn't do her homework if she doesn't feel like it and has gotten questions like "How do you score better then me on tests when you don't even do homework?" (I really do get that question....-_-...) She usually understands something really easily but at times when she doesn't get it, she gets irritated and starts holding her feelings bottled up inside or starts ranting on and on about it. Which, to some, makes her wierd. She hangs out with a few friends but knows almost EVERYONE at her school and they know her. When someone cusses in front of her, she usually just tells them to be quiet or just walks away, though she does cuss it isn't aloud, more of a thought thing for her. An all around A student but is actually a bit depressed at the moment because she has a B in Math and is getting totally lectured by her mom about how her grades have been dropping.
History before high school: She went to school with her best friend Cindii, since K-Grade and they've always had inside jokes and such, they also had another great friend who was there with them, but had moved, named Kimmii. She works sometimes at her family's market and has always been very good with money. Such as letting others borrow but the interest rate is as high as 20%. (xDDD, I really do that~!.... :hahaha: ) Her family includes her mother and father though they are divorced. Her aunts, uncles, grandma, and grandpas. She also has a big brother named Nikk, and a dog named Corii.
(Cindii is the Girl's Basketball Captain)
Appearance: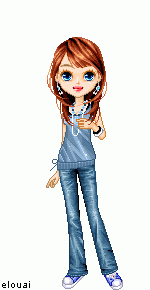 Name: Cindii Hong
Gender: Female
Likes: DBSK, Hot Korean Guys, Silly-ness, Blue, The "Asian" Hairstyle (Don't mind my stupidness, I'm actually modeling this character after my real best friend~! LoL~!), SS501, Se7en, Chinese/Korean Dramas, Music, Volleyball, Basketball, and Natalii's CHOCOLATES~! (xDDD)
Dislikes: Public things-such as Karaoke or Presentations, TOO Much Silly-ness, Taking her stuff as a prank, mushrooms....
Personality: She's also calm like Natalii but she is AOT more mature then Natalii is. She has actually said to Natalii that she's like an 8 years old, which didn't offend Natalii much and instead she turned it around and called Cindii "Mommy~!" (xDDD) Cindii is a very obsessive towards the HOT Guys she likes, but nothiing like STALKING...LoL
History before high school: Hung out with Natalii and the others and she also went out with a guy who Natalii actually liked but all ended well when Natalii said it was fine. Though, Cindii had broken up with the guy, the guy still goes to the same high school as them. Cindii has two sibblings and tons of cousins who care about her. But they only person that may be introduced in the story may be Carolynn, her older sister.
(If anyone wants, you can go ahead and make any characters that relates to my characters~! ^.^)