Name: Weber An, Emily
Gender: Female
Age: 17
Job: Assasinator
Species: Vampire/Human
Organization: The Silencers
Weapon: A gun called the Devil's Hand, along with her claws and fangs that can be or not be filled with poison.
Picture: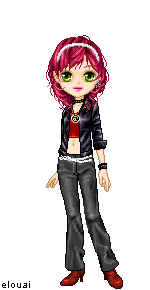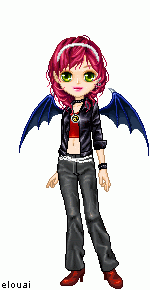 Personality: She actually has split personalities, so on one side, she's just a normal girl that wants to have fun. She's clumsy, bright, and imapatient. On the other side, once she has a request, she turns to the dark side, which makes her swift, silent, and able to operate. She can kill and move quickly and can also be very deadly. A very pretty rose but on filled with thorns.
Whenever she is faced to face with another skilled assasin, she would say, "I wasn't begging for my life, I was offering you yours." Espeicially, when they think they aren't going to die.
History: Emily was an only child born to the Weber household. She was a pampered rich kid until the accident that happened when she was 5. Her parents were both killed by their maid...who had gone out one night and had been turned into a vampire. She as a 7 year old girl, was of course, frightened and terrified at the scene of her parent's death, causing the personality disorder. The maid, though, did not kill her, and told her, "Live on! Though, I have killed your parents, I have always taken care of you as if you were my own daughter," and with that, she suck her fangs into the child and left in a breeze in that cold autumn night.
7 years later when she turned 14, she was taken out of the orphange by a man named _______, who in this case, was the leader of The Silencers...he had started the orgnization for fun and profits, once he heard about Emily's background, he decided to take her in and treat her like a daughter and a fellow assasinator. Giving her a necklace representing The Silencer Symbol.
Name: Yoshida, Akira
Gender: Male
Age: 18
Job: Assasinator
Species: Demon/Vampire
Organization: The Silencer
Weapon: Swords, daggers, along with his claws and fangs that are or are not filled with poison.
Picture: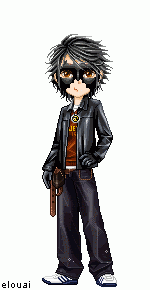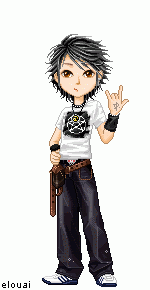 Personality: Akira Yoshida is a guy pretty similar to Touga, Yuugo, and Shin! (LoL, Kyorin's characters are all soo FUN~!) He likes to talk, fool around, and is an on-the-bright-side thinker!
History: Akira is not an only child. He lived 8 years ago when he was 10 with his 6 year old brother and 4 year sister. He lived a happy life with his mother in a house with his two younger siblings, it was very peaceful, but one night, when he had gone out to buy some vegetables and other foods, he was kidnapped. Not knowing where he was, he kept silent, and all he heard was one conversation between two men, "Are you sure it's this boy? He's...pretty calm..." "Well, of course, he experiment 04, his blood was a wierd...mixture...."
He was so confused that he couldn't comprhend what they were saying, all he thought about was, what about his family.
Back at his home, his mother and siblings were all still awake worried about him. They stayed up night after night trying to look for him...but with no sucess, they had to give up. (He lives in the countryside with no police.)
Back where Akira was, he was suddenly shot up with some kind of drug and he passed out. When he finally came to, he was in some kind of room, no longer a car, the room was filled with a bright white light shone right on to him. Not knowing what was going on, he turned in circles trying to find someone, but didn't see anyone. Four years later, when experiment after experiment was performed on him, he suddenly was thrown away...like a rat that was no longer needed for the experiment. He didn't remember any of the test done on him but he remembered one thing, he had to return home. So, he walked miles after miles trying to find his way around, but he suddenly had a horrible headache, and before he knew it, fangs started to grow and wings came from the back of his back...(?...LoL)
When he found out what they've been doing to him, he was shocked, but as he continued to walk, images of an organization flashed through his head, "Th-t-the...Sile...ncers...?" He mumbled as he suddenly saw where it was...He suddenly grew his wings out and flew to the organization unconciously...when he arrived he was greeted by a man and a woman, telling him what it was all about and telling him that his family had moved to a different location...now unknown, after 3 years that he had been kidnapped. There he met Emily and they've been on the same requests since. (He was also given a necklace with the Organization Symbol on it.)
(Finished~! xDD LoL, too much free time, equals to too many dolls! xDD)