Name: May, Alice
Gender: Female
Age: 15
Job: Exorcist
Branch of the Black Order: AsiaZ!
(Exorcists only)Weapon: Tsuki (Moon) Megami (Goddess), in broad daylight, her powers are not as strong as when the moon is out. She can control the nature around you. But because she's the Moon Goddess, it is easier to control things that are in darkness or moonlight. (I.E. A tree would like a monster to you or could grabbed you and chain you to it's trunk, sort of thing. Or the particles in wind could suddenly blow very hard.) But her powers are limited to the things she can see around her, (I.E. She can't call a plane from way up that she can hear, only things she can see.)
Picture: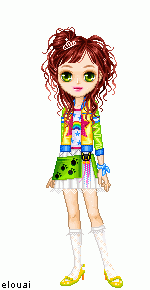 Personality: One word: Shy! This girl is shy, but that's because she's a brand new exorcist that was recruited on the day of the Noah Mission. When she's settled and comfy, well, another one word: H.Y.P.E.R~ She's a klutz but she loves to help, which is good...?
History: She is a brand new exorcist, but that doesn't mean she's new at controlling her powers. From when she was 6 years old, her parents were in wars. So to be able to survive at home alone, she had to know how to control this power she had. Though, she had her older sister with her...she has no clue where her sister, Korinna Hajime, is now. She kept herself alive all these years trying to find her sister and family, but couldn't. She spent two or three years depressed and saddened. By age 14, she lived with a man name Kyoshiro, he was supposedly a businessman. The man adopted her as his daughter when he had seen her walking the street on a cold rainy night. One day, the man, said, "My dear daughter, would you like to go somewhere with people that have similer powers as yours?" He knew about her powers, and were very content or just indifference about it. She immediatly replied "Yes!" to her father. Then now, as he sends her off, she notices something wrong with her father. But as it was, he told her to go, and....that was the last time they met.
Spending time at the Order with information, and such, took a bit long for her since she had a complicated past, but in the end, she was accepted as an official exorcist.
(Btw, Different last name, since Korrinna had forgotten her past, and was left behind....)