Title: Vintage Virus Poster
Description: Uh...for fun? xDD
Kan-Chan - January 7, 2007 06:40 AM (GMT)
Okay, since I have like, no life, I was wondering if you guys would like to remake your band member, not totally remake them, I mean change their outfits and all that. Then I'm gonna photoshop it and turn it into a poster! What'dya think? :???:
Edit -
Here it is! Yay!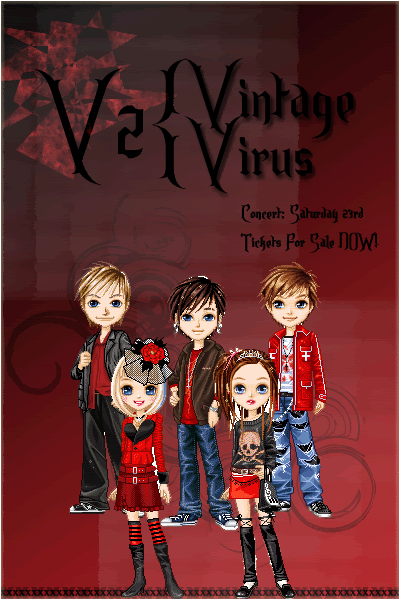 Edit..Again - Grr...I just noticed...bad wand work! LoL, I'll fix it up though, gotta clear the white spots....sorry!
ban-sun - January 7, 2007 06:49 AM (GMT)
ah, awesome idea!
lol, i have no life too! :hahaha:
kyon-kyon - January 7, 2007 06:54 AM (GMT)
OOOOOOOOOOOOOO I AGREE!!!!!!!!!!! :hahaha: i kinda didn't really like ryuuhei's outfit at first hahahaah, what the HELL was i thinking??! xD but i'm keepin the pants and shoes!! >=] and i'm changin his mouth haha

AHHH I LIKE THIS IDEAAAAAAA~!! *pins* :hahaha:
Kan-Chan - January 7, 2007 07:24 AM (GMT)
Haha, that's how Einstein got E=MC2, with no life he has time to think! LoL, just kidding, whenever you're done with them, just PM me!
k2nessa - January 7, 2007 08:35 PM (GMT)
can we set a color theme here? So that each member would look color themed >:]
like the trapnest posters in NANA lol!
I'm thinking black and red and punker-ish, is that alright?
Kan-Chan - January 7, 2007 09:06 PM (GMT)
lol, first one is random! I guess, since we didn't do a theme, but yeah! I'll make another one for the black and red theme!


1: Random!
2: Red/Black
3: Blue
4: ....
koufuku - January 8, 2007 04:23 PM (GMT)
oohhh.... a V2 poster!!

wel....the colour is red and black right? so i dun have to change Jiro's clothes.

anyway, i'm too lazy to recreate Jiro. :hahaha: :hahaha:
Kan-Chan - January 23, 2007 06:43 AM (GMT)
lol, sure! and it's done.....hope it's okay!
k2nessa - January 24, 2007 12:31 AM (GMT)
so cute! I love it! and btw, i'll be on hiatus this whole week, i have finals in my school right now >:[
Kan-Chan - January 24, 2007 02:45 AM (GMT)
aww....okay! I have tons of hwk, and now they're (teachers) are shoving our High School stuff at us.....*sigh*
Gomen! I'll still be on though, not much... T.T
kyon-kyon - January 27, 2007 05:52 AM (GMT)
hohooh hoooolehh molehh how awesome!!!!!!!!! :hahaha:
WHOOOOOOOOOOOOOT FOR KANNY AND HER AWESOME PHOTOSHOPPING-NESS!!!!!!!!!! :YAY!: :YAY!: :YAY!:

hahaha so awesomeeeeeeeeeeee >=]

wow so many people just recently had finals x.X;; haha interesting, i had mine like...2 weeks ago :hahaha:
awwww kannyyyyyy if you need help, ask!! xD though i don't have any history class er anything hehe
ban-sun - February 3, 2007 08:55 PM (GMT)
SO KAWAII!
woot, i luv red n black, everybody matched perfectly :FOOD!: :YAY!:
Kan-Chan - February 4, 2007 07:59 AM (GMT)
lol, thanks you two! ^_^_^_^_^_^_^_^_^_^_^_^