Title: Hitman 2 modding
Description: someone know how?
Teh Duragon - April 6, 2009 11:22 PM (GMT)
Trying to look around, only thing i can find is Reskinning for Hitman3.
Someone knows how to mod, retexture things on Hitman2?

Thanks in advance.
Bean Machine - April 6, 2009 11:28 PM (GMT)
if you get me on msn and remind me i've got all the modding tools but i lack the patience or skill to use them.
Grant Hammerhoof - April 6, 2009 11:38 PM (GMT)
...Hitman 2 has modding tools???
Bean Machine - April 7, 2009 12:44 AM (GMT)
Yarr they didn't seem too complex, then i went to bed. God i hate having to look through my files give me a minute *dives into the murky depths of his 2TB of messy files*

*emerges, covered with ooze*
you want to find a program called: Glacier TEXEditor

There are some good hitman modding communities out there too.
also the editor i mentioned works on every edition of hitman, including blood money which is the one i downloaded it for.
Teh Duragon - April 7, 2009 03:39 PM (GMT)
i just don't know what file in Hitman 2 im going to look for...

Its supposed to be in the scenes folder. But not sure if im going to pick: All levels.
or Co-1, and what file inside there am i going to pick?
I can't seem to find the file to the Main suit and character..
Teh Duragon - April 7, 2009 06:44 PM (GMT)
Double post...
I got the first test mod of mine.
Now PB... At Sicily, the arms of the gardener clothes, are still light skinned..
And second.. Do i need to replace all suits for all levels?
Since i loaded another map, and had the default.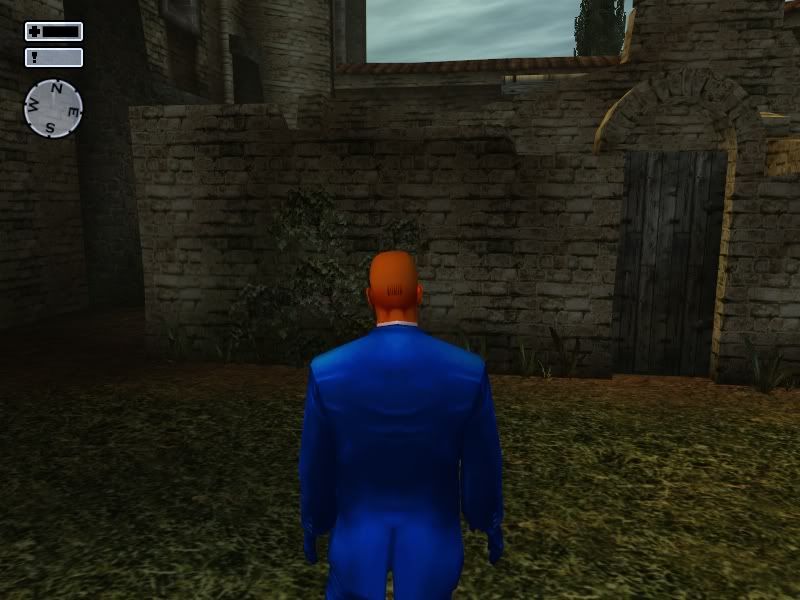 Tried haps' Anakin face texture..
xD
Teroch 66 - April 8, 2009 03:03 AM (GMT)
I like the bald guy better. Hitman was designed to be so awesome that no one needed to mod it.
pocketbannana - April 8, 2009 04:45 AM (GMT)
you made 47 into an orange mexican.

Man, I didn't know there were mods for the hitman games. I actually contemplated buying hitman 2 for ps2 the other day, maybe I'll pick it up for pc someday.
Teh Duragon - April 8, 2009 02:27 PM (GMT)
There are quite FEW mods for Hitman 2, ive only seen two files yet.
Blood money is a more popular game to mod..

Hitmanforum.com
pocketbannana - April 11, 2009 04:31 AM (GMT)
most of the hitman games are solid...I wonder if I could run blood money.
Teh Duragon - April 28, 2009 10:31 PM (GMT)
Blood moneymodding xD my best EVER