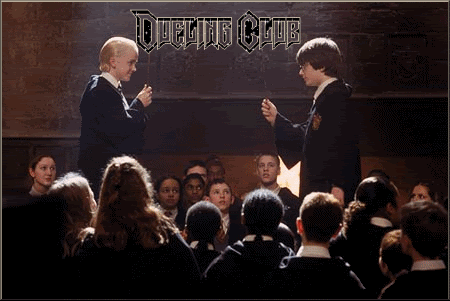 Professor Drew walked into the Dueling Club practice room, and pinned a paper to the wall.
It stated:
ATTN: All Students!! Do you want to learn how to Duel? Sign up!
1. Name:
2. A few spells you already know:
3: What you would like to learn:
OOC:
4. Post a link to your profile. :)
When I add you to the list, I will check your profile to see what you need. Then, I will delete your application from this thread (to keep everything neat and clean). I will continue to check your profile from time to time to see if anything needs to be fixed. When you've fixed your Spell Record you may let me know by replying to this thread.
It's important that your record is accurate so that your opponent knows what they are up against. Therefore, those who have not fixed their profile may not participate in practice duels or tournament duels.
Here are the teams:
Genesis
1.
Isabelle O'Keefe
2.
Punky Brewster
3.
Sophia Cunnington
4.
Hoshi Adza
5.
Aiedail Lenwe'
6.
Liberty Washington
7.
Apolla Rivers
8.
Sean Sacrat
9.
Fally Feagreen
10.
Phoebe Anima
11.
Roger Wood
12.
Lee Vilenski
13.
Rowean Walker
14.
Sydney Malacour
15.
Demelza Lestrange
16.
James Potter
Exodus
1.
Lewis Wolf
2.
Glanecia O'Riley
3.
Conan Moriarty
Terminus
1.
Emilie Nyoka
2.
Indigo Colores