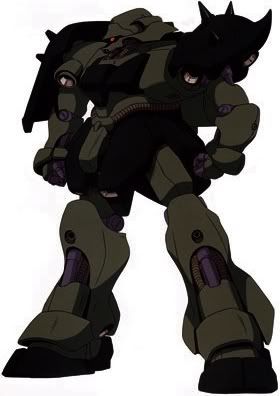 Model number:
AGMS-013D
Codename:
Archer
Unit type:
Interceptor Mobile Suit / Light Mass Produced Frame
Operator:
Piotr Kazakov
Dimensions:
15.8 meters
Weight:
75.5 metric tons
Speed Class:
3
Design Features:
None.
Armament Load Out:
1. 1x Selective-Fire Beam Assault Rifle, stored on rear skirt armor, hand carried in use
2. 1x Maneuver-Assisted Shield, mounted on left forearm, optionally hand carried
3. 1x High-Tensile Alloy Straight Sword, stored behind left shoulder, hand carried in use
Machine Breakdown:
Frame:
Light Mass Produced Mobile Suit Frame
Armament Load Out Spaces Used:
1. Large Beam Gun Weapon (30)
2. Large Metal Shield (15)
3. Medium Metal Melee Weapon (10)
Artillery Limit:
0/0
System Load Out Spaces Used:
1. OPEN
2. OPEN
Total Machine Cost:
30 + 15 + 10 = 55
Brief Technical and Historical Notes:
A mass produced, frontline combat unit, the original AGMS-013 Archer was the duelist of mobile suits, reminiscent of the air superiority, dogfighting jet planes of past centuries. Its function was simple: seek and destroy. It literally sought to track and fight other mobile suits in one on one combat. Though not exactly a high performance model, the Archer sported a combination of speed and power that made it highly successful in the field during an era full of bulkier military units. Cheap to produce, but dependable, it found favor among many pilots, and several variants rolled out for mission specific needs. One of these, the D-type, was designed to pursue and intercept enemies, usually in space, both retreating and charging. Armed with a highly powerful, and equally versatile, beam rifle with a selective firing rate, the Archer D could deal out heavy damage from all but the longest conventional ranges. In addition, it came armed with a very sturdy metal sword and a long shield that mounted small ion verniers to assist in moving the heavy thing around. It could fill a variety of roles, able to keep pace with quick mobile armors or speed in on faraway artillery units while still carrying a weapon that could lay down a blanket of suppressive fire or highly accurate shots on distant targets. The D-type found a great deal of use in the colonies and on Luna, where its speed and maneuverability were a valuable asset to Earth loyalists combatting terrorist threats from the colonies.