Title: Application for
Description: Nguyeb262616
Nguyeb262616 - February 19, 2009 06:54 AM (GMT)
APPLICATION FORM
Runescape Username:
Nguyeb262616
Combat Level:
110cb in f2p, dunno what it is in p2p with 38 summ
3 Highest Stats (combat and non-combat):
99 mage, 99 fletching, 98 defense
F2P or P2P?:
will be p2p soon
Timezone:
Pacific Standard Time (-8 gmt)
Where did you hear about Ancient Legion?
lordblack656
What times and days are best for you?
weekdays after school, busy on weekends mostly
Previous clans (if any) and why you left:
Mercenaries of Zamorak. The clan went to hell after i left on a 10 month trip and i came back on with the site closed down yesterday and most members haven't come back on as of yet. Basically it died out.
Please post a pic of your stats: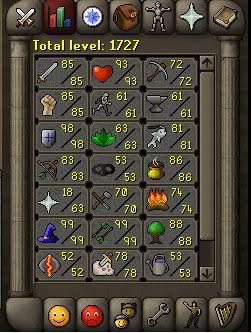 Have you read and understood Ancient Legion's rules? Do you agree to abide by them?
Yes.
Have you read Ancient Legion's basic information? Do you understand it?
Yes.
Have you read Clan Warring 101? Do you understand the terms or have any questions about them?
I understand, no questions.
Have you added a leader (Lamb Bug or Golden arm42) in game?
I have not as of yet but will after posting this.
starwolf_ftw - February 19, 2009 07:20 AM (GMT)
Wow! Nice stats! 100 x infinity you'l get accepted lol :lol: :P
Lamb Bug - February 19, 2009 01:10 PM (GMT)
Nice stats! Accepted, and welcome to AL! :P

SLOandro - February 19, 2009 02:17 PM (GMT)
dflame58 - February 19, 2009 06:51 PM (GMT)
damon - February 19, 2009 09:54 PM (GMT)
starwolf_ftw - February 19, 2009 10:04 PM (GMT)
QUOTE (damon @ Feb 19 2009, 03:54 PM)
omfg king binder

I had a feeling you would say that :P
Donovan Kays - February 19, 2009 10:35 PM (GMT)
welcome!
btw 100 times infinity is infinity =o
nj741 - February 20, 2009 12:47 AM (GMT)
Nice Stats and welcome to AL
lordblack656 - February 20, 2009 01:19 AM (GMT)
yup yup very very nice, i want ur mage lvl its pwnage as hell. and ur fletch, they kick some serious butt. welcome to al i hope u have fun in this clan like u did in ur old clan =)
blompty2 - February 20, 2009 10:03 PM (GMT)
welcome to al. your gonna pwn in wars with those stats