Title: Animal Magik's Application
animal magik - December 16, 2008 07:44 AM (GMT)
APPLICATION FORM
Runescape Username:
Animal Magik
Combat Level:
101 f2p, 108 p2p
3 Highest Stats (combat and non-combat):
99 Fletching, 87 Firemaking, 85 Strength
F2P or P2P?:
P2P
Timezone: GMT +10 (no daylight savings, south-eastern Queensland, Australia)Where did you hear about Ancient Legion?
My friend, Starwolf_ftw
What times and days are best for you?
Everyday during school holidays (until Feb) from 9am - 11pm, during school only around weekends.
Previous clans (if any) and why you left:
None (sad, I know)
Please post a pic of your stats: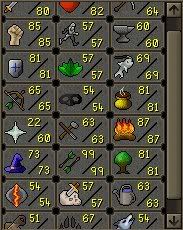 Have you read and understood Ancient Legion's rules? Do you agree to abide by them?
Yes, and yes.
Have you read Ancient Legion's basic information? Do you understand it?
Yes, and yes.
Have you read Clan Warring 101? Do you understand the terms or have any questions about them?
Yes, yes and no.
Have you added a leader (Lamb Bug or Golden arm42) in game?
Yes, both.
starwolf_ftw - December 16, 2008 07:47 AM (GMT)
Behold the power of friends! Welcome aboard Animal! ;)
animal magik - December 16, 2008 07:52 AM (GMT)
Thanks Starwolf, good to be here :holiday:
Chuffa - December 16, 2008 09:40 AM (GMT)
Puremain - December 16, 2008 12:07 PM (GMT)
Lamb Bug - December 16, 2008 10:05 PM (GMT)
Accepted. Welcome to the clan! :D